Get The Full 3 Layer System for Free
We have a new and amazing opportunity for you to get your hands on some of the most-cutting edge hair loss products on the market.
In light of the launch of Hairguard's 3 Layer System, we are looking for volunteers to test out the new system in full, and document their progress along the way.
If you volunteer you will receive the following products:
- 6 month supply of topical of your choice (Maxoxidil Pro, Maxoxidil or Biogaine)
- 2 x Hairguard Scalp Brushes
- 1 x Hairguard 1mm Dermaroller
- Growband
- Growbox (automatic pump for Growband - currently unreleased)
The total value of this package is £600. Yet you'll get it for free. You'll just need to make a deposit of £120 (one fifth of the total value) to show us your commitment, and then stick to the protocol for 6 months.
Your deposit will then be returned to you in full at the end of the 6 month period.
We'll need 3 things from you:
1. High quality 'before' video of hairline
2. Commitment to the protocol every day
3. High quality progress videos after 4 months and 6 months
You'll need to stick to this protocol each day:
1. Use the Scalp Brush for 3 - 5 minutes each evening
2. Apply 1.5ml of the topical straight after
3. Use the Growband + Growbox for at least 15 minutes per day
4. Once per week, use the Dermaroller instead of the Scalp Brush
All we need you to do right now, is show us that you're interested in volunteering by signing up below.

We have just 15 spots available in the group, and we've already had a lot of interest, so make sure you sign up before we're full and the opportunity is gone.
Please note, that we're operating on a first come first served basis, so if you are interested then it makes sense to sign up now before it's too late.
By the way, if you do sign up it does NOT mean you are obliged to do anything, it's just so that we know you are interested and can follow up with when we're ready to go.
Just remember, that this is a once in a lifetime opportunity to get all of these products for free - do not miss out!
3 Layer System - Register Your Interest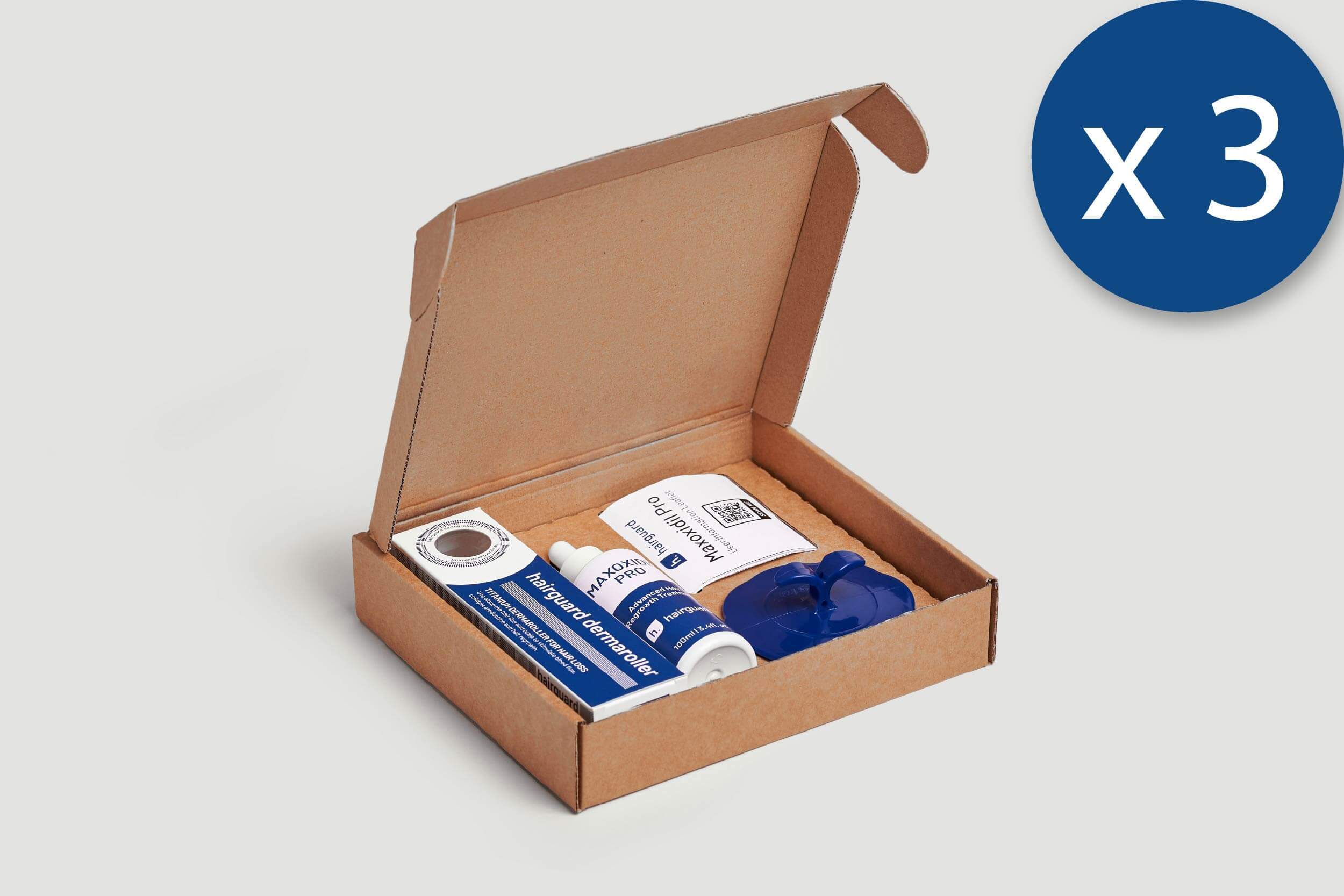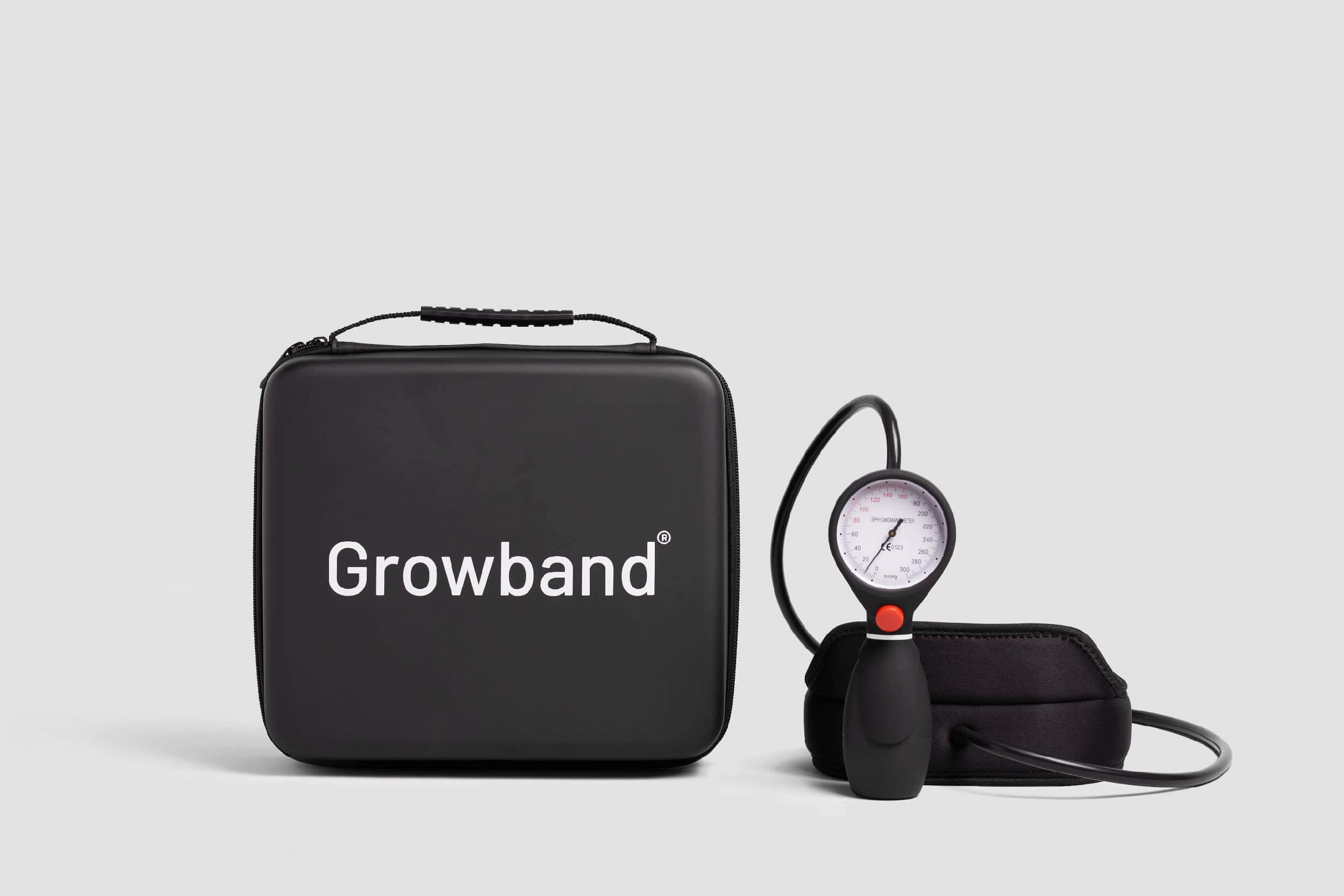 Below we have a selection of testimonials and progress photos from customers who have been using parts of the 3 Layer System.
However, these customers weren't able to use the complete 3 Layer System because it wasn't available at that time.
As such, we expect you will get far superior results by using the complete 3 Layer System (with the Growband + Growbox) over the course of the 6 months.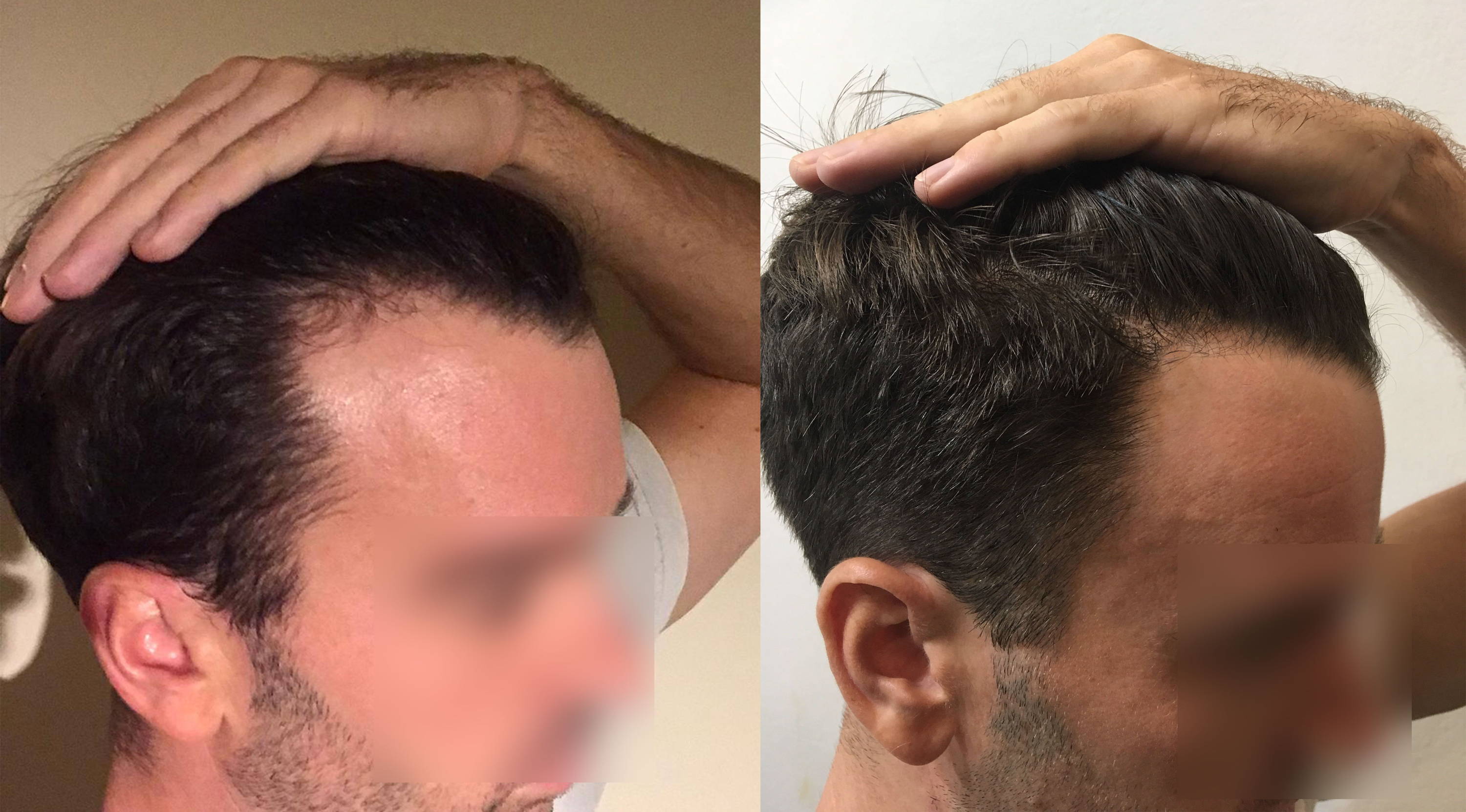 Timeframe: 8 Months
Levels: 1, 2 & 3
Topical: Biogaine
"After month 8, the lower and upper temple showed substantial new hair growth and the hairline density continued to improve, along with the overall quality of the hair."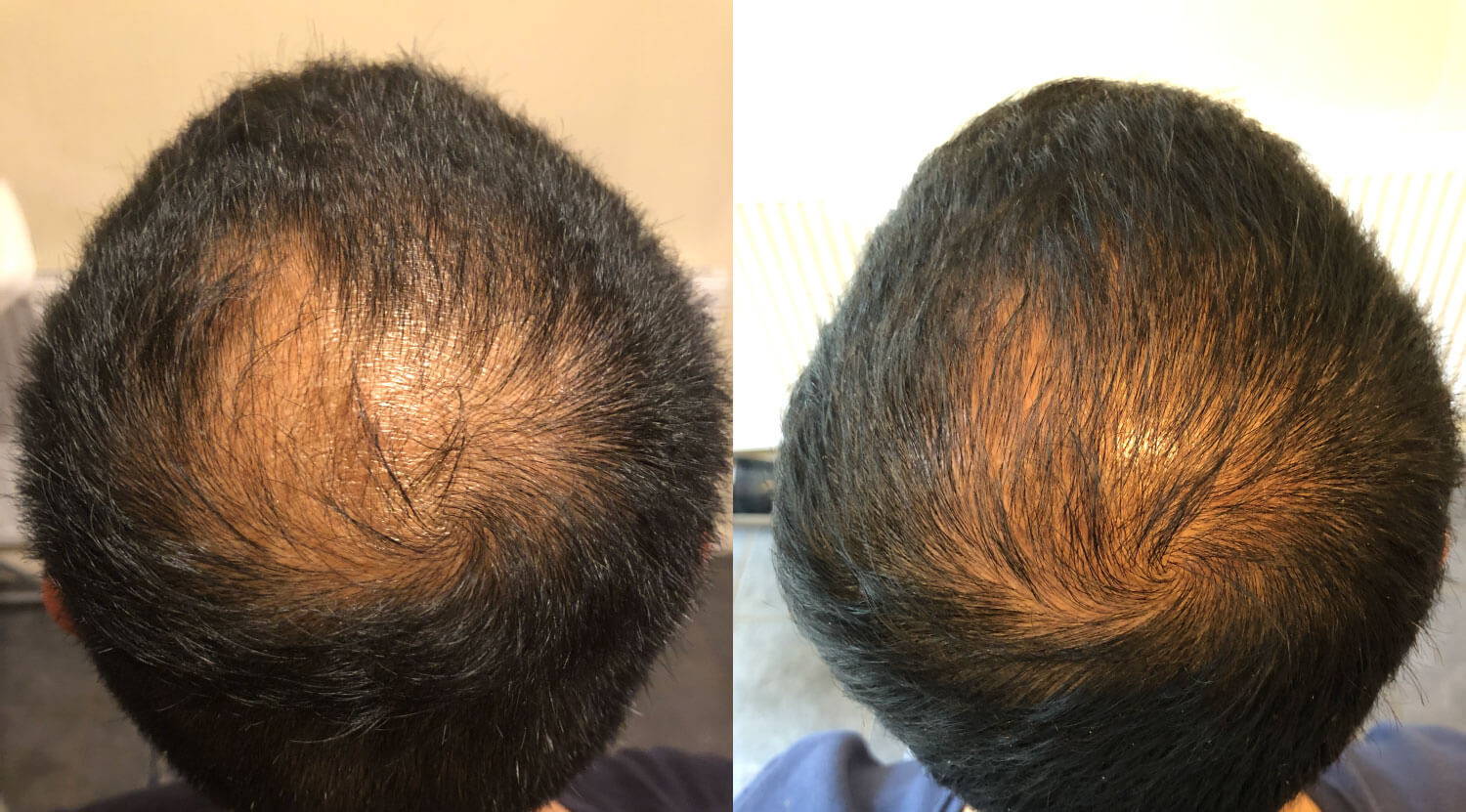 Timeframe: 4 Months
Levels: 1 & 2
Topical: Maxoxidil Pro
"The results after 4 months have really surprised me, given I'm over 40 with years of thinning. My very sparse crown has seen a noticeable thickening with similar thickening over my entire scalp. The protocol has been very easy to follow - particularly like the fact it's one application per day which means that you could apply at night and wash in the morning and go about your daily business without a greasy residue."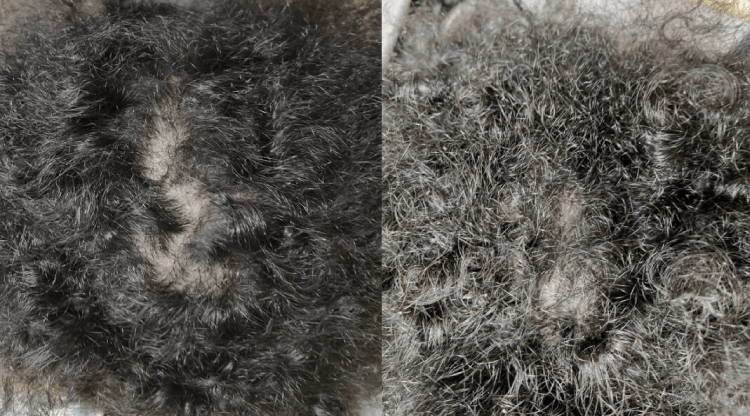 Timeframe: 4 Months
Levels: 1 & 2
Topical: Maxoxidil Pro
"I started using Maxoxidil Pro, the dermaroller and scalp brush as directed by the Hairguard team. After just 4 months I've seen a drastic increase in coverage and density over my crown. My front hairline is also moving downwards and my hair generally feels thicker. I've also noticed my scalp seems healthier and isn't as dry and itchy as before."
What happens after the 6 months are finished?
Assuming you have stuck to the protocol and provided your high quality progress photos, you'll be able to keep all of the products from the trial period, and if you want to continue using the topical then we will arrange for you to receive it with an on-going discount.
What happens if I don't stick to the protocol for the full 6 months?
If you are not able to stick to the protocol for the full 6 months then we'll require you to return the products back to us and you will not receive an on-going discount.
Although the total cost of the products is £605, you will receive them all for free.
How do I take good progress photos?
We're looking for the following angles, in high quality definition:
1. Side on showing temple and hairline
2. Front hairline, with hair pulled back
3. Crown
4. Centre parting from above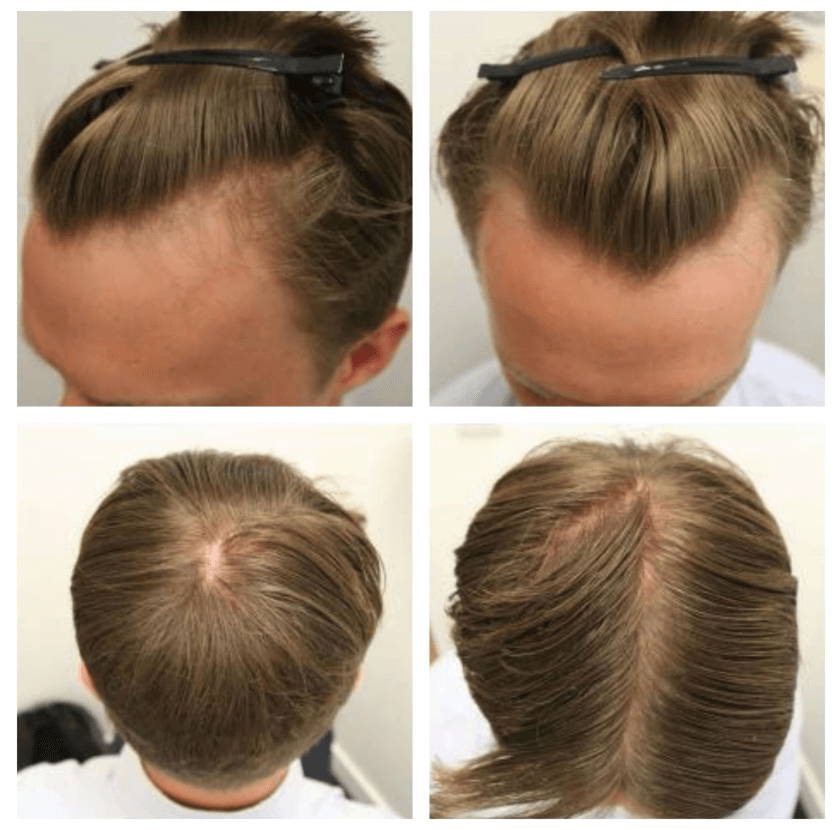 The Growbox is a new product that automates the inflate-deflate cycle of the Growband. Using the controls, you can control the exact length of each stage:
- Inflate
- Hold
- Deflate
- Pause
- Repeat
It makes it much easier to use the Growband, because you no longer have to manually pump it, making it hands-free. It also means you can do other tasks without having to think about the pumping.
The Growbox also is small enough to fit in a pocket, so you can even use the Growband on the go whilst walking round the house.
What is the 3 Layer System?
The 3 Layer System is a breakthrough method for tackling hair loss at the true root cause: lack of blood flow and lack of growth space.
By targeting each of the 3 layers of the scalp you can restore healthy blood flow, which in turns creates the perfect environment for luscious, thick hair growth.
To read more about the 3 Layer System, download our book at the bottom of the page here: https://www.hairguard.co.uk/pages/3-layer-system