Create the ultimate drug-free hair growth serum
When we began developing Biogaine, we asked ourselves a simple question: "What is the best natural hair growth product we can possibly make?"
The result is Biogaine, and it's exceeded our expectations. The comprehensive formula works synergistically to stimulate hair regrowth from multiple angles.
At the same time, Biogaine also blocks DHT in order to stop further miniaturisation so that each individual hair thickness is maximised.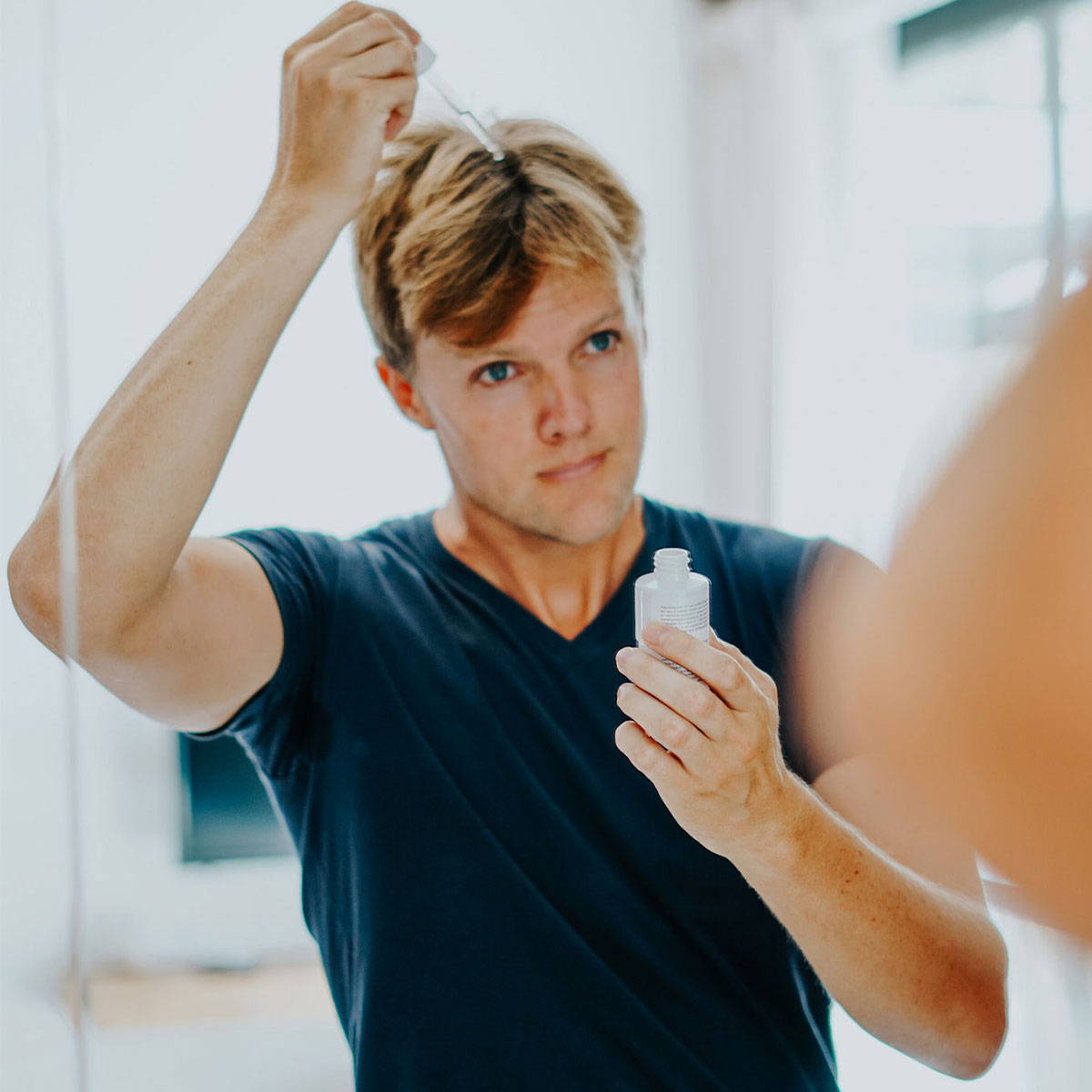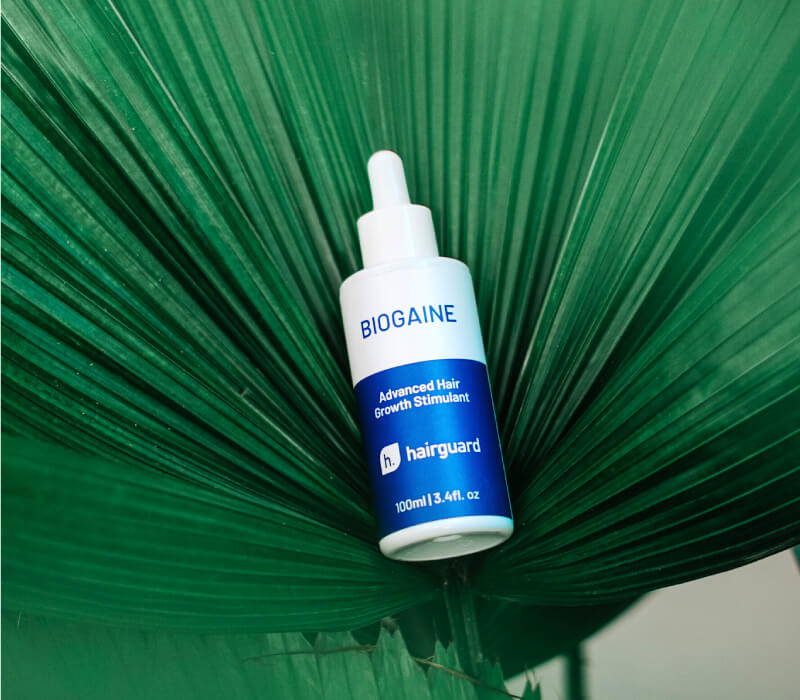 We only use ingredients scientifically-proven to work
Our ingredients are tested through independent clinical studies. They're proven to be effective and improve hair growth. Learn more about our primary ingredients below.
In a clinical study, Redensyl increased the number of hairs in anagen (growth) phase 9%, and increased hair density by 8% in less than 3 months. That's equivalent to getting an 8,000 follicle hair transplant across your entire scalp.
Adenosine has been shown in multiple studies to significantly increase hair growth. In one study growth increased by 40% in just 6 weeks. Adenosine has also been shown to work synergistically with Caffeine.
Caffeine has been shown in multiple studies to both stimulate hair growth and block DHT, making it a powerful addition to any topical treatment.
Over the course of 4 months the number of hairs in anagen (growth) phase increased by 15% compared to the placebo, and the number of hairs in telogen (resting) phase decreased by 52% compared to the placebo.
Zinc is a potent DHT Blocker. It has also been shown to increase the incorporation of cystine in hair proteins, and deficiency in zinc is associated with hair loss.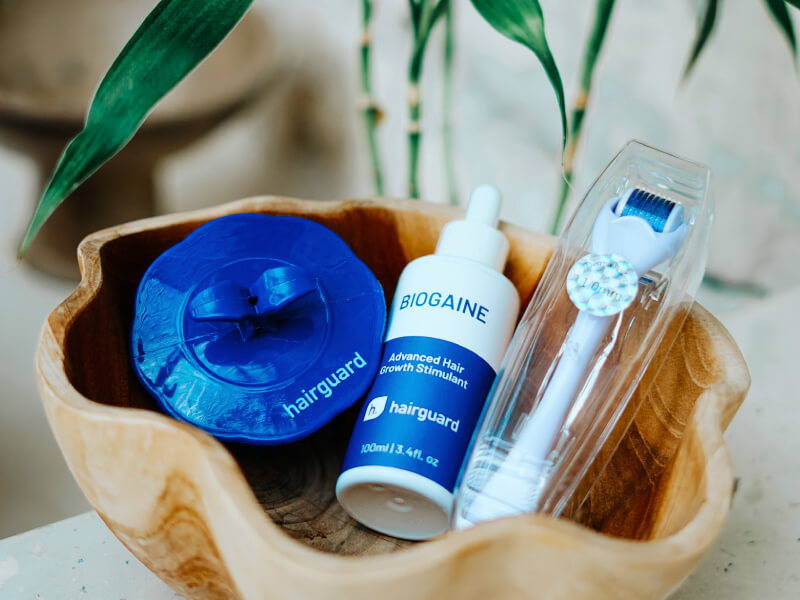 Maximise Your Hair Growth
Triple your results with the free Dermaroller and Scalp Brush
It's not often you can triple the effectiveness of a treatment with just a couple of tweaks. Yet that's exactly what Dermarolling has been shown to do for hair loss.
That's why we include it with your first order of Biogaine for free. You'll also get a free Scalp Brush for exfoliating the dead skin that can hinder absorption of the serum.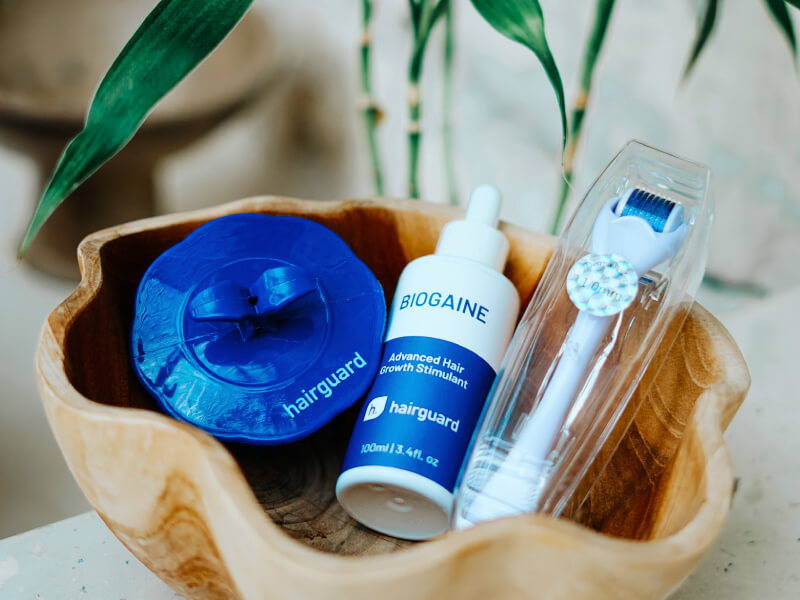 Step 1:
Brush your scalp for 2 - 3 minutes each evening
Step 2:
Apply Biogaine to thinning areas and rub in
Step 3:
Use the Dermaroller once per week

"The results even after 4 months have really surprised me, given I'm over 40 with years of thinning. My very sparse crown has seen a noticeable thickening with similar thickening over my entire scalp. The protocol has been very easy to follow."

Thicker hairs give fuller, bouncier and healthier looking hair.

Stronger hairs grow faster and longer and fall out less.


Hair density matters. No more bald spots of scalp shining through.

Less hair falling out means better looking hair and less worries.
Results You Can See And Feel Or Your Money Back - 100% Risk Free!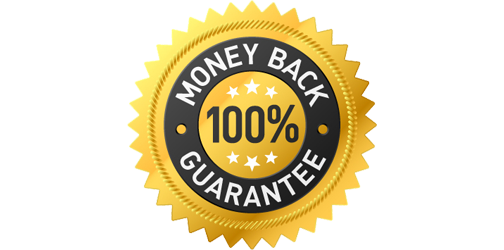 The Biogaine Anti-Hairloss Serum comes with our 180 Day Guarantee. So, if there's any reason you aren't happy with your purchase in the next 180 days simply let us know and we'll issue you a 100% refund on-the-spot .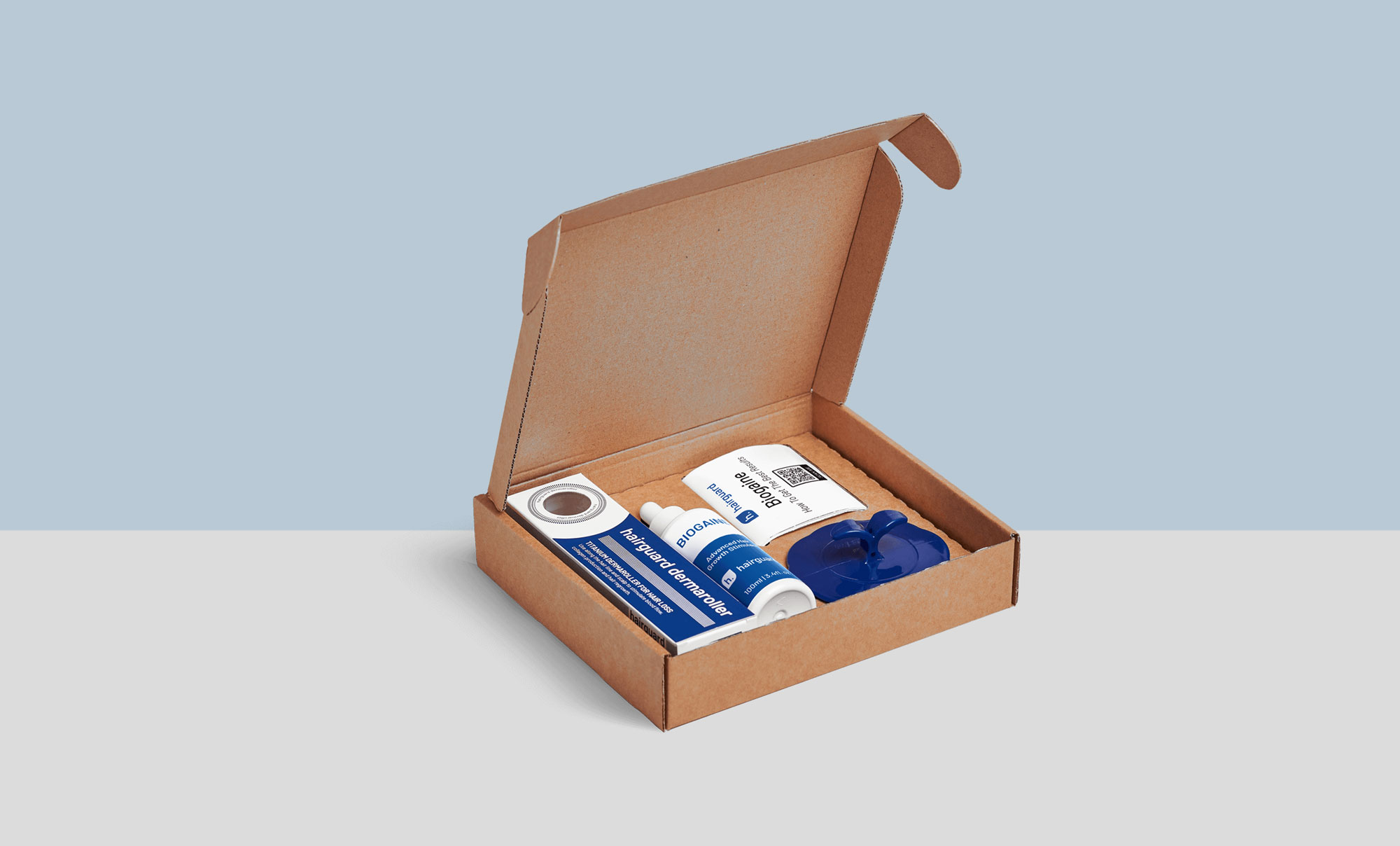 Please note that we have imported reviews for the Scalp Elixir here since it was the predecessor of Biogaine.
How long will it take to see results?
For the typical hair follicle to transition from resting to growth phase is 90 days, so you should begin to notice a difference within 3 months. However, results will be different for each individual.
Will Biogaine work for my hair type?
Biogaine was designed to stimulate hair growth for all hair types. And since the underlying cause of hair loss is the same for everyone with pattern hair loss, you should benefit from the product regardless of your ethnicity and hair type.
In general, you should be able to tell if Biogaine is working for you after 3 months, but we recommend using the product for at least 6 months to get the most out of it.
Are there any side-effects?
Since Biogaine is 100% drug-free and derived from all-natural ingredients the chances of side effects is very unlikely. In some rare cases minor irritation can occur for some people, but this usually subsides over the course of the first week and is not a problem.
What is the full list of ingredients?
Biogaine was developed to be the most effective all-natural hair loss topical on the market. It contains the following ingredients:
Water, Magnesium Chloride, Niacinamide, Caffeine, Adenosine, Pisum Sativum (Pea) Sprout Extract, Glycine Soja (Soybean) Germ Extract, Triticum Vulgare (Wheat) Germ Extract, Larix Europaea Wood Extract, Glycine, Zinc, Propanediol, Glycerin, Alcohol, Arginine, Lactic Acid, Xanthan Gum, Epilobium Angustifolium Flower/Leaf/Stem Extract, Scutellaria Baicalensis Root Extract, Butylene Glycol, Acetyl Tetrapeptide-3, Trifolium Pratense (Clover) Flower Extract, Potassium Sorbate, Sodium Benzoate, Sodium Metabisulfite, Tocopherol, Dextran
As part of our commitment to innovation we update our formulations regularly. As such, this ingredient list may vary from the actual ingredients in the bottle you receive. Please check the label on the bottle you receive as it will have the correct list of ingredients.

How is Biogaine different from other products?
Hair loss is an extremely complex disease that is very hard to stop. As such, most treatments fall short because they don't do a good enough job of fixing the underlying issues.
On the other hand, Biogaine uses sophisticated, scientifically-proven ingredients to stimulate hair growth and block DHT simultaneously. We also provide a free Dermaroller with your order to help reverse fibrosis and stimulate tissue repair. This is something you don't get with other treatments as standard.
We're here to help you. Chat with our customer support team Monday - Friday.
You can also contact us via email:
info@hairguard.com
Get Growing Today With Biogaine